You may want to read the previous posts in the series about light and noise before reading this: part I, part II.
Information
The game is getting more complex for each release, and I want the game to still clearly communicate what happens. In the new release you will clearly be able to see when, how and why a monster perceives you.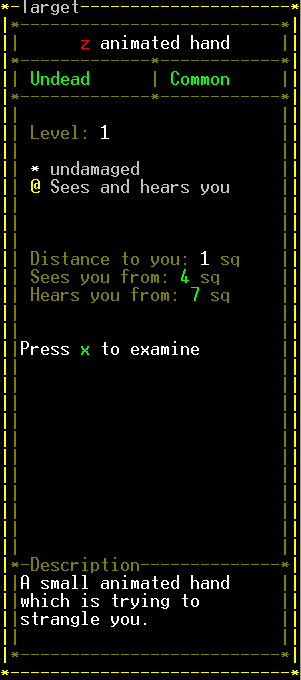 On the picture to the right you see the new target display. The yellow @ indicates that a monster can both see and hear you. It can display four combinations:
sees and hears you (yellow)
only sees you (grey)
only hears you (magenta)
unaware of you (doesn't see or hear) (dark grey)
In addition you will see the current distance from the monster, and the number of squares it can see you from (i.e., it's vision attribute) and how long it can hear you from (i.e., your noise attribute). These numbers will turn red when the monster is out of range to see or hear you. If there are special conditions such as you being in light, or that the monster is asleep, that will also be stated here.
Ah, and btw, the monster's default depth will be displayed as "level". This will help you determine how much of a threat a monster is. If the monster is out-of-depth, this number will be red.
Surprise attacks
You are unaware of a monster if you cannot see or hear it. A monster is unaware of you if it cannot see or hear you. An unaware actor is particularly weak for any kind of attacks as it would take them by surprise. Any attack against an unaware actor is called a surprise attack and have the following consequences:
An unaware victim has 0% chance of avoiding magic spells regardless of max-mp (normally it has 5*max-mp% chance to avoid it, as announced in this post).
The attacker gets a fixed bonus to 'melee' and 'missile' on an attack against an unaware victim.
Note that a victim won't become aware just because it is attacked; it needs to see or hear the attacker to become aware. It is therefore possible to make multiple surprise attacks against a monster, and a monster can make multiple surprise attacks against you. Any attack against an unconscious monster counts as a surprise attack. Unconscious/Incapacitated monsters are always unaware of you so all attacks against them counts as surprise attacks (note that this means that you no longer have 100% to hit them with missiles, you only get a fixed bonus).
In most cases the surprise attack will be a ranged or a magic attack. It is possible for very low-noise characters to make surprise melee attacks to sleeping monsters, but only if their melee-reach is higher than their noise (this is not a special case, just a consequence of the rules above).
This was the last post in the series of light and noise. There are many more changes in the next release however which I plan to write about soon.