I realised I haven't updated the blog for more than two months now. I am still working on Release #8. Progress is slow but steady right now. There are really a lot of changes so I still cannot predict when it will be done.
Inventory Space
I've always been a fan of small inventories in RPGs, it makes you really think about what you need to keep instead of hoarding everything. TGGW is based around items as almost all character progression is based on it. I find it very fun to make those decisions as I go along.
However, TGGW has "free" equipment swapping which means it is optimal to basically hoard every kind of equipment you'll find (since each piece of equipment have their own strength). I have seen some players making stashes of items that they return to when they need something (this happens in other roguelikes too).
This is somewhat discouraged in TGGW since items that lies on the ground might move or disappear when you rest, also it is not always trivial to backtrack. However, my intention is not that you should have access to all items and be able to use them whenever you need them, so I have decided to try an unusual solution to this.
Aliens…
Whenever you pick up an item, it will get some of your human smell. They didn't have that smell before since these items have been lying underground for ages. There are mysterious beings in another dimension that for some reason are very attracted to this smell and tends to appear when such things are left unguarded: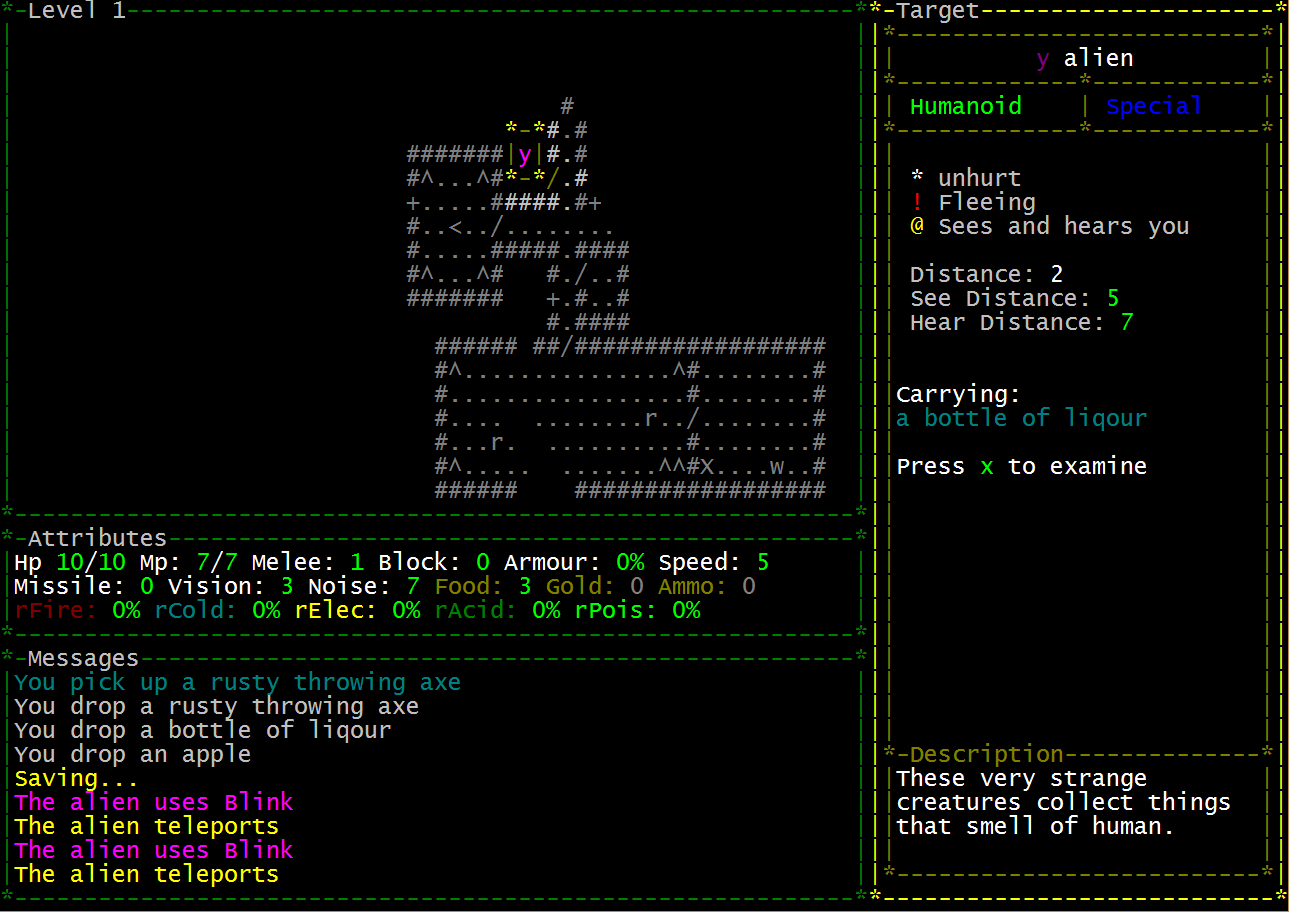 Aliens will appear when you rest. They will collect most items on the ground that you have touched (that is, picked up and dropped). If you manage to kill them before they escape back to their dimension, you just might be able to retrieve your item back, but probably you won't…
This means that once you drop an item it will (probably) be lost forever. This should make the decisions which items to keep (or even which ones to pick up) a bit more interesting.
This change does not interfere with my personal play style since I don't keep stashes anyway, but it might be a huge change for other players.
Let me hear what you think about it!